Upgrade your Barnsley Home with Roof Lanterns
Roof lanterns are a beautiful way to invite light into your home. Whether you have a conservatory, orangery or just want to create an eye catching design for a living room, roof lanterns can create a dramatic centrepiece. While often seen in extensions, lantern skylights can easily spruce up a kitchen area. Consider the kerb appeal you'll create when we install one in your home.
Try one of our 10 different styles to meet the needs of your home. While we offer traditional square cut roof lanterns, we also offer rectangular styles up to 6m long. The natural light that you can bring in can improve your mood and ensure that you get enough light even throughout the grey winter months. Look at some of our special features for additional appeal.
Tight Corner Design
The Sheerline S1 has optimum design techniques that uses screws inside the joints. It creates a clean look and a tight design that doesn't jut out. That way, you have extra security in your lantern skylight.
The anti tamper screws, security tape, and anti tamper glazing create a deterrent for would be intruders. Sheerline makes sure to protect you and your home. Even with the most stylish designs, your refined roof lantern remains extra secure.
LED Lights
Short winter days can offer significantly less daylight. But when you choose our roof lantern with LED lights, you not only bring in daylight, you create a chic backlight for the evening.
With the colours that you can choose, you can ensure that your lantern skylight is bright all year round. And with 28mm glazing, we can fit acoustic dampening glass. Set the mood for the evening. Set the mood for your life.
Impressive Insulation
The roof lanterns that we offer are uniquely insulated, better than most lantern skylights. They include polyamide thermal breaks (which helps reduce heat transference between materials).
This ensures that there are no 'thermal bridges' or places where heat can easily disperse. Not to mention, the lanterns include a co-extruded perimeter seal to make sure that draughts and rain stay outside where they belong.
Low U-Values
Roof lanterns have traditionally been less energy efficient than most windows. But not these. Sheerline's Thermalock® technology creates multiple chambers in the window frames for improved insulation.
When paired with 28mm glazing, the Sheerline S1 offers U-values as low as 1.0 W/m2K. Which is better than many windows. We also offer triple glazing options for even greater thermal efficiency. Your lantern skylight keeps your home warm all year long.

Roof Lantern Prices Barnsley & South Yorkshire
Use our quoting engine to plan for your next S1 roof lantern. It's free and painless so that you can be prepared for your budget planning.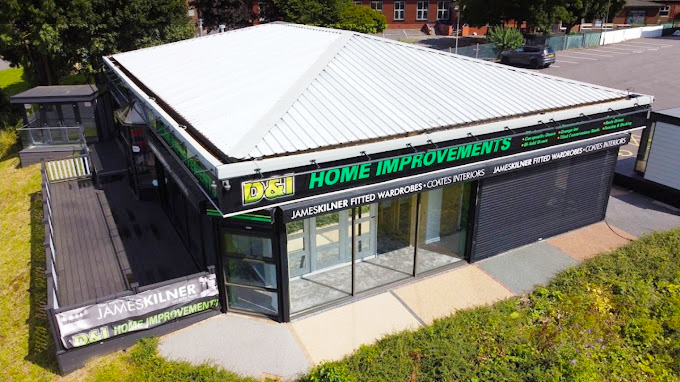 CHECK OUT TRADE
At D&I, we work primarily with the public, but we do offer roof lantern supply to tradespeople in the Barnsley and South Yorkshire. Get in touch with us today.
Frequently
Asked
Questions
We hope that we answer your concerns with our frequently asked questions, but if we don't, contact our team in Barnsley today for more information about installation. 
What's the difference between a roof lantern and a flat skylight?
Flat skylights are often fixed and around 4° so that the water runs off into the guttering. Roof lanterns are hipped and protrude from the roof's surface. The roof lanterns we offer are never above a 25° pitch to match your council codes. We can install both in your next orangery or conservatory.
Sheerline S1 Brochure
Our brochure includes all the technical specifications for Sheerline roof lanterns, like bar width, weather resistance and more. Take a look.