Beautiful Contemporary Aluminium Doors
A door isn't just about exits you take, but about the bold entrance you can make. At D&I, when you choose one of our aluminium entrance doors, you'll add luxury to every homecoming. While there are any number of colours for you to choose from, look at the exclusive modern designs with different glass panels for your new front door.
Furthermore, you can choose a front door that not only reflects your personality but one that makes sure you're safe and sound in your home. Our aluminium entrance doors are of superior quality, with great thermal efficiency and security options.
Thermal Efficiency
Front doors aren't just your opening to your home. They're the vanguard against draughts and moisture. Fortunately, we use aluminium. Aluminium front doors are incredibly thermally efficient, because they 'break' heat transference out of your home.
Now, the glass panels of your aluminium entrance door can offer the best thermal efficiency, especially with SMART's Alitherm glass. At 70mm, the ovolo glass option is perhaps our thickest glass option. Your beautiful door will be as thermally efficient as it is attractive.
Modern Designs
Aluminium is well known for being an elegant and modern option, which is why you can order it in matt, satin, or gloss finishes. Additionally, you can order from any of our incredible 56 door options to add to the beauty of your home.
Our aluminium entrance door comes standard with an incredible 1.2mm skin thickness to prevent inclement elements from staining or warping your new door. It also includes a Polystyrene core for maximum thermal efficiency. Form meets function in this stylish aluminium door.
Sure Security
When you install your new front door, you don't just want a beautiful appearance. You want to make sure that your family and home are safe. Now you can when you install Hallmark's aluminium doors and premium locks.
All of the aluminium entrance doors come standard with a Winkhaus AV2 Slamlock to ensure that the lock is initiated as soon as the door closes behind you. Furthermore, the doors come with anti bump, anti snap, and anti drill/pick security, ensuring your locks can withstand just about anything.
Additional Features
Your home deserves that polished look for a modern style. Now, you can choose from any of our premium features. Look through our multiple colours like Signal Violet or Slate Grey to ensure you get the aesthetic you want.
As well as colours, Hallmark's aluminium entrance doors have multiple hardware options. Between levers, knobs, and handles, you can find the best design for your modern home. Ask us more about our Marine Grade Finish to improve the weatherproofing on your front door.

Aluminium Entrance Door Prices Barnsley & South Yorkshire
See what our aluminium entrance doors cost with our quoting engine. It'll help give you an initial idea of our prices before we start our installation.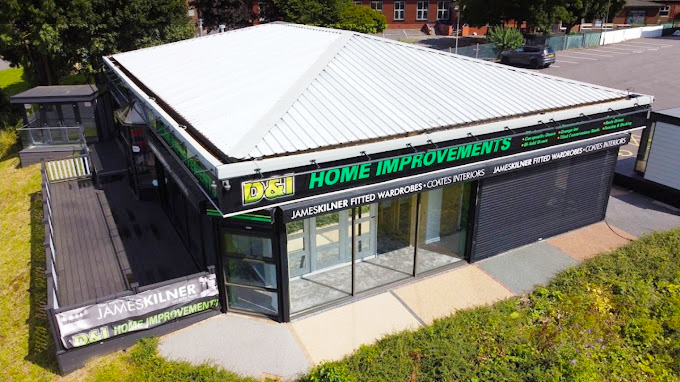 CHECK OUT TRADE
D&I has great relationships with people in the South Yorkshire area. If you're a tradesperson looking for aluminium entrance doors, get in contact with our friendly Barnsley team today.
Frequently
Asked
Questions
We hope that we answer all of your queries about aluminium entrance doors. If you have any unanswered questions, you can always contact us through our online form or phone. 
What aluminium entrance door supplier does D&I work with?
D&I proudly supplies Hallmark aluminium entrance doors. We believe that we can get the best in market value with premium materials. Furthermore, we love the designs and are sure you will too.
Contact us if you are in the trade looking for a supplier.
How much do aluminium front doors cost?
Are aluminium doors better than uPVC?
How long do aluminium front doors last?
Aluminium Entrance Door Brochure
Our brochure has more technical information regarding Hallmark's aluminium entrance doors. If you wanted information about glazing, thickness, or U-values, there's more.