Give Your Home a Stunning New Feature
Improve your lovely South Yorkshire home today by having a new conservatory built. Whether you choose a classic Victorian or modern lean to you'll be able to impress all of your future house guests. Choose this magnificent addition as an eye catching installation in your home.
When you install a conservatory you'll be able to create more natural light in your home, as well as open up your living space. Homeowners delight in creating new spaces for their family to eat, play and work. And we know how adding a conservatory can improve the value of your home. The natural light alone will help make this the perfect choice for your property.
Natural Light
Improve natural light in your home immediately, with the addition of your new conservatory. For homeowners with a green thumb, a conservatory is a lovely place to add plants or create a nice reading space. Just browse our creative designs. Create a picture perfect space in your home.
Improve the sleep, mood, and general health of your family when you install a conservatory. Especially during winter, ensure you're getting as much sun as possible. Don't waste another minute asking yourself if you should get one. Just ask, when.
Thermally Efficient
Now your glass or tiled conservatory roof can be more energy efficient. With improved materials you can achieve lower U-values than ever before. Whether you are looking for a glass or tiled roof, ask us about fixed glass panels. Choose from our fixed, casement, and tilt & turn window styles.
With each of our window styles, you'll get double glazing. But we know how cold it can be in South Yorkshire. You can choose triple glazing for improved thermal efficiency, more warmth, and improved longevity of your new conservatory.
Gorgeous Designs
We know that your home and décor is important to you, which is why we offer a wide range of styles for your next conservatory. If you choose the Edwardian, you'll get a solid rectangular conservatory. The Victorian includes a 3 or 5 facet bay window making it more rounded.
But there are even more bespoke designs. Each design depends on your planned use, so consider whether you want to use your conservatory as a dining room, living space, or office. When you contact us, we'll be able to talk more about colours and glass options.
Roofing Styles
Of course, D&I can always install a beautiful glass roof in your conservatory. But look at some of our tiled roofing designs. We offer tile and slate in a wide variety of colours. Tiled designs can sometimes be helpful for those who live with trees or other hazards close to the property.
Our tiled designs include indoor and outdoor lighting options for dark evenings, and vaulted ceilings to keep that airy feeling. And don't worry about whether you can bring in light. Our glass panels mean that you'll still have plenty of access to the sun.

Conservatory Prices in Barnsley & South Yorkshire
Building a conservatory is a big step. That's why our quoting engine can help you with budget planning and trying out the styles and dimensions that work best for your home.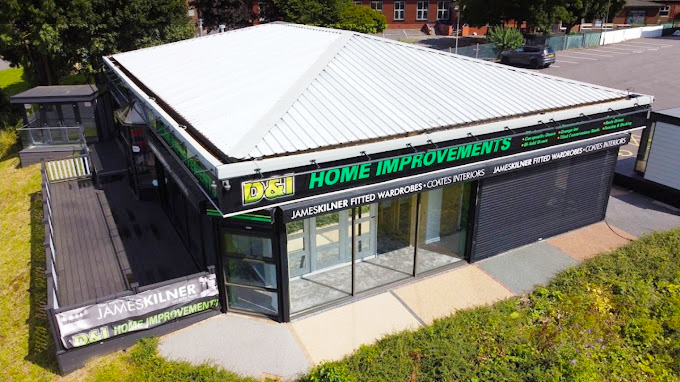 CHECK OUT TRADE
D&I supplies to the trade in South Yorkshire. If you are a tradesperson looking for conservatory roofs, windows, or doors, contact our Barnsley team for more information.
Frequently
Asked
Questions
We try to answer your queries with our frequently asked questions. But if you feel like you still have questions, let our Barnsley team know by getting in touch either with our contact form or by phone. 
What's the difference between an orangery, conservatory, and garden room?
This is a good question since D&I installs all three. An orangery traditionally comes with brickwork and often pillars, while conservatories are often simply glass structures. Both of these structures are typically joined at the back of the house. A garden room, which we build with composite materials, does not adjoin any part of the house and does not have its own foundation.
Where does D&I install conservatories?
Who are your suppliers for conservatories?
Brochures
Look through our brochures for technical information on our windows, doors, roofs, and more.