Classic and Modern Styles for Garages
Don't let your garage be the bane of your existence. Your home can benefit from the addition of a new garage door, not only for kerb appeal but to make sure that you have ease and comfort when exiting and entering your Yorkshire home.
Whether you want windows for sunlight or insulation for improved weatherproofing of your home, we have the designs for you. With an up and over design, you can choose a style that includes dual opening mechanisms to be used like a traditional door and a garage door.
On the other hand, Sectional garage doors are very popular with automation and open/close in horizontal rows. You've probably seen roller garage doors that roll up on shop fronts and sheds. Roller doors work well if you have limited space since the door rolls up above the frame in a compact shutter box. Our Barnsley team can't wait to talk to you more about your next installation.
Designs
Choosing a garage door is easier than ever. With over 100 options to choose from, you can be sure to meet and match your home design styles. We offer three main types of doors: up and over, section, and roller. Most of our products are suitable for automation.
Automation guarantees you improved ease and convenience when getting in and out of your garage. Choose from the Alutech 800 nm motor, Cobra electric/ push button key switch, Cobra remote control, and more!
Styles
D&I offers modern and traditional styles for your new garage door. We can provide multiple different windows or mock windows in your doors. Windows can help create natural lighting for work or storage spaces.
Whether you want to use traditional materials like timber or are more interested in different materials like uPVC, we can give you grain effects for your up and over or sectional doors. Look at our Georgian, ribbed, or flush panels for more classic styles.
Insulation Choices
When you choose new garage doors, you can choose a simple metal door or something with more insulation. For people looking to put a new door to their shed, insulation may not come in to consideration.
But for those whose garages front their house, you can ensure that you have an extra level of warmth. Insulated doors come with perimeter seals to reduce draughts. We offer insulation as thick as 40mm, or 50mm of foam filled sections to reduce noise.
Added Features
You'll be excited about the extra features that we offer, like gas pistons for smooth closings. Ask us about the warranty options for your future garage doors. We can even offer multi point locking mechanisms.
You can choose any classic colour or more vibrant choices like Rosewood, Dark Mahogany or woodgrain finishes. But, if you choose a timber door, we can also offer you different wood stains. Create bold or classic looks with your new garage door.

Garage Door Prices Barnsley & South Yorkshire
You know when you need garage renovation. Contact our friendly team to get bespoke quotes for different designs and styles and to help you get an idea of our prices.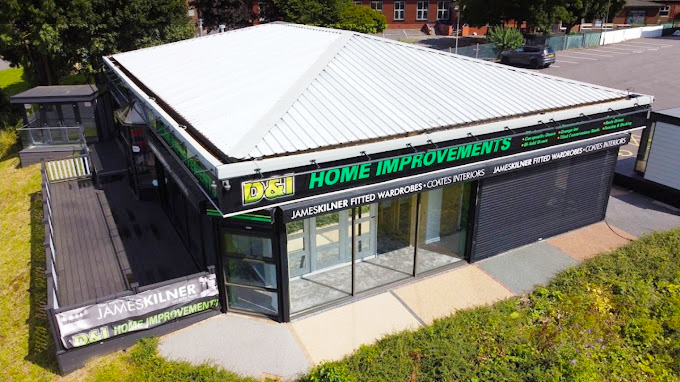 CHECK OUT TRADE
D&I supplies to the trade. If you're a tradesperson in South Yorkshire looking for garage door suppliers, get in contact with our Barnsley team today.
Frequently
Asked
Questions
If you have lingering queries, look through our frequently asked questions for more information. Or contact our Barnsley team via online form or by phone. 
What is the difference between sectional and roller garage doors?
Both are very similar, however sectional garage doors are divided into larger horizontal rows, while roller doors have much smaller horizontal rows and can be rolled up at the top of the frame, either inside or outside the entrance. Sectional doors frequently pull back into the garage rather than rolling. Sectional doors will also come in Georgian styles and possibly windows. This is not true for roller garage doors.
Where does D&I install garage doors?
How much will a new garage door cost?
Garage Doors Brochure
For our customers who like knowing the fine technical details, we have our brochures.