Beautiful and Long Lasting Decking
When you are looking for a new deck, you may be thinking of trying timber. But before you do, consider composite decking. Composite decking is made of wood plastic composite (WPC), which is weather resistant, warp and mould resistant, and kid friendly. You won't ever get a splinter from composite materials, and you'll certainly make maintenance easier for you and your family.
One of our suppliers, Oakio makes their decking from 55% wood fibre and 35% plastic film, attempting to use maximum recycled content. With composite decking you have all of the aesthetic of a beautiful timber with none of the high maintenance of staining and sealing your wood deck year after year. Try this new decking when you install your next garden room, aluminium patio doors, or French doors.
Easy Installation
Our Barnsley team can offer you an easy and quick installation process when you choose composite decking. One of its benefits is that grooved composite decking can be fitted together much like puzzle pieces, so we'll be in your home for less time.
But you won't sacrifice on a quality product with this easy installation. Show off your new deck for family and friends when you choose D&I. Ask us about our installation process. Your next decking installation can be over and completed in time for your next family gathering or party.
Impermeable Material
Composite decking is typically made of recycled wood that is compacted and covered with a plastic film. And while it retains all of the structure of wood, the plastic film helps it resist water, mould, cracking or warping.
WPC isn't just weather resistant to the elements. For families with pets, it's also scratch and stain resistant so that you don't have to worry about your new deck, no matter how hard they play. This material will withstand all sorts of mad scrambles and imaginative art projects.
Long Lifespan
Another core benefit of composite decking is its long lifespan. With its plastic film, composite decking can last for up to 30 years. So you won't have to worry about replacing your deck for years to come. Choose the environmentally friendly option.
The colour fixed decking will remain vibrant year after year, even without the hassle of rigorous maintenance. Just sweep your deck in summer, and salt it in the winter. Say goodbye to staining, sanding, and weatherproofing old wood. Say hello to composite decking.
Woodgrain Finishes
Even though composite decking is made of compacted wood, we'll be able to offer you multiple different wood colours and grain finishes for your new deck. There are classic colours from Walnut to Teak, or modern colours like Charcoal or Smoke White.
For woodgrain finishes, you can choose the Sanding, Grooved, or two different Deep Embossing Wood Grain styles. That way, whatever the style of your home, you can make the right style choice. Plus it improves traction on your decking. Only you will know the difference.

Composite Decking Prices Barnsley & South Yorkshire
Contact us with our online form for your composite decking quote today. You'll get a good idea of our styles and the budget planning you can do in the future.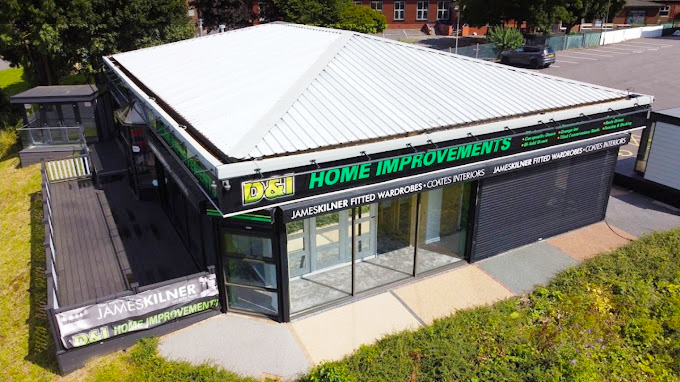 CHECK OUT TRADE
D&I supplies to the trade. If you're a tradesperson in South Yorkshire looking for composite door suppliers, look no further. Give us a call today.
Frequently
Asked
Questions
If you have a question that we haven't answered, let us know. Contact us through our online form, or give us a call. We'd love to hear from you. 
Wood Plastic Composite is a material made from recycled wood fibres and HDPE resin and additives. The wood fibres are typically recycled, and the plastic helps make them functionally tougher.
Are composite decking boards slippery?
How is composite decking installed?