Modern Designs for Limited Space
When you are hoping to install new sliding doors, look no further. Aluminium is a premium material for all of the astounding thermal efficiency and ease of use. The ultra lightweight frames offer slimmer sightlines, and are even better for accessibility.
Speaking of accessibility, we offer lowered thresholds for your aluminium sliding doors. That way you don't have tripping hazards for the young or the elderly. This alone can help increase your home value as government standards rise to make more dwellings accessible.
Sleek Designs
The ultra slim sightlines are one of our favorite things about aluminium sliding doors. This highly tensile material is able to support incredible weights with even less material, ultimately offering you improved views of your garden or patio area.
Aluminium sliding doors are perfect designs for both modern and period homes. You don't have to worry about colours and finishes since we offer 16 trendy hues from Deceuninck. Choose your next design for sleek aluminium sliding doors.
Sash Options
Some homeowners aren't sure about how aluminium sliding doors will fit in their property. But with Deceuninck aluminium sliding doors that's not a concern. Your aluminium patio doors can be sized to order, like installing extra wide sashes.
Or, if you prefer, you can choose multiple small sashes for your aluminium sliding doors. D&I even offers multiple tracks for ease of opening. That way you have multiple entrances to your garden and accessibility to those with low mobility.
Environmentally Friendly
When you choose your next sliding patio doors, you'll want to make the responsible choice. That's why we offer Deceuninck's aluminium sliding doors, because aluminium is the most environmentally friendly materials on the market.
Aluminium is prized in the industry for its weather resistance and its strength. But it has gained even more importance as builders recognize the need for ethically sourced materials. Aluminium, fortunately, can be recycled time and again.
Easy Maintenance
We believe you'll appreciate the low maintenance of aluminium sliding doors as much as we do. Instead of worrying about staining or constant cleaning, all you need to do is wipe the doors down occasionally with a light cloth and soap.
Powder coatings mean these patio doors stay colourfast. Additionally, aluminium has higher thermal efficiency and better weatherproofing than most materials. Get rid of condensation and draughts with your new aluminium sliding doors.

Aluminium Sliding Door Prices Barnsley & South Yorkshire
If you already know that aluminium patio doors are for you, why waste another minute. Use our quoting engine to help you budget plan.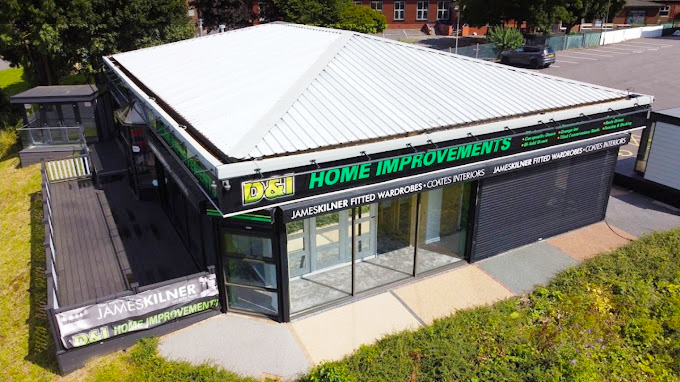 CHECK OUT TRADE
D&I supplies to the trade. If you're a tradesperson in South Yorkshire looking for aluminium patio sliding doors suppliers, get in touch with our Barnsley team today.
Frequently
Asked
Questions
We hope that we answer your queries regarding aluminium sliding doors. But if we haven't, please contact us using our online form, or by phone so that we can help.
How much do aluminium sliding patio doors cost?
When you use our quoting engine, you can not only find out how much your aluminium patio doors will cost, you can choose the designs and style that you want. You can also use our quoting engine to fine more about our aluminium front doors and aluminium windows.
Are aluminium sliding patio doors secure?
Can I paint aluminium sliding doors?
Aluminium Sliding Doors Brochure
For our customers who like knowing the fine technical details, we have our brochures. You can find information about aluminium sliding doors like maximum sash number, maximum sash size, U-values and more.